How ErgoCart Helps Quality Control Engineers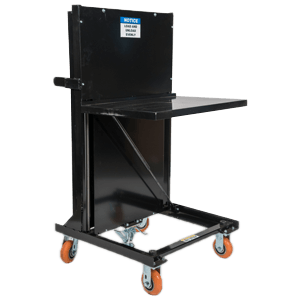 Protecting the integrity of your product not only protects your brand, it protects your consumer. There are many factors that impact your ability to protect your parts: the effort exerted by your workforce to transport the parts, the storage solutions, the safety of the parts as they go through the production line, among others.
Understanding the challenges faced by Quality Control Engineers each day is why we created ErgoCart as the optimal solution for your material handling needs. The patented self-leveling ErgoCart is an ergonomically designed material handling system that automatically adjusts the workload to the proper height as weight is added or subtracted, protecting your parts and products from loss or damage.
Our product line features carts for every material handling purpose, with custom sizes and options available to ensure that ErgoCart is the right solution for your needs.
Reduce Loss
When your team is hustling to produce an order, efficiency is everything, but it shouldn't come at the cost of the part. The non-electric spring-actuated deck keeps materials at the ideal ergonomic window for loading and unloading, without requiring additional operators, electricity, or manual manipulation, which ensures that your parts don't have to travel far in the hands of your employees before they're gently loaded onto the ErgoCart.
Self-Leveling Deck
The ErgoCart goes up and down, instead of your associate, eliminating harmful bending and twisting and reducing the amount of times your parts will be lifted by your team members, reducing damage or loss to the parts.
Easy to Move
The ErgoCart's user-friendly design, slim profile, and large diameter casters provide easy mobility for a variety of applications with minimal effort. The ErgoCart can be pushed individually, are towable, train-able, and tug-able with ease.
Spring-Actuated
As more weight is added to the ErgoCart, it gently and gradually adjusts the loading deck down towards the ground. ErgoCarts are equipped with a safety dampener that slowly releases deck energy to prevent rapid upward movement of the spring-actuated deck.
If you're ready to optimize your material handling and would like to learn more about ErgoCart, call Matt Neal at 419-528-0095.